Become An Advocacy Fellow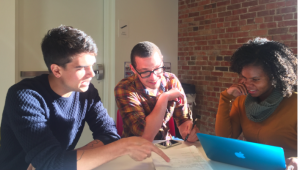 Healthier Colorado is looking for people who want to begin a career positively impacting society through public policy change. As a fellow in our advocacy fellowship program, you will receive the real world experience and development needed to open the door to a career in changing the world. This eleven-month program will plug fellows into working roles on health public policy campaigns in Colorado, as well as provide participants with a supplemental professional development curriculum.
Position Details
Title: Organizing Fellow
Reports to: Community Organizer
About Healthier Colorado:
Healthier Colorado is a nonpartisan, nonprofit organization dedicated to raising the voices of Coloradans in the public policy process to improve the health of our state's residents. We believe that every Coloradan should have a fair chance at living a healthy life. The people of Colorado are our constituency, and Healthier Colorado aims to make meaningful improvements throughout our state's diverse communities.
Equal Employment Opportunity:
Healthier Colorado is an equal opportunity employer. We value a diverse workforce and an inclusive culture. Healthier Colorado does not discriminate on the basis of race, color, religion, gender, sexual orientation, gender identity or expression, age, national origin, marital status, citizenship, disability, and veteran status. We are committed to providing a work environment free from discrimination and harassment.
Primary Duties and Function:
Healthier Colorado is refining the focus of our advocacy fellowship in 2019 to accommodate the growing need of organizing capacity to reach our organizational goals. Our new Organizing Fellow will receive experience in what it takes to support our campaigns and ballot initiatives with grassroots advocacy organizing efforts. The Organizing Fellow will report to Healthier Colorado's Community Organizer.
We are looking for a candidate who is eager to learn in a hands-on way. This experience will include time canvassing, phone banking, meeting members, in addition to coming up with other ways of engaging the community in Healthier Colorado's work. The candidate would preferably have foundational knowledge of advocacy work and excitement for learning about health advocacy and for putting ideas into action.
This position will begin in January, 4th 2019 and run through November 15th, 2019. It will include occasional nights and weekend work in addition to potential travel across the state.
Job duties and responsibilities:
Help create ways to mobilize new activists to support our campaigns.
Assist with executing successful events and actions to engage members and potential members.
Communicate with activists through phone calls, one-on-one meetings, emails, and other activities.
Perform data entry tasks to ensure we are accurately and efficiently tracking our progress to goals.
Create flyers, graphics, and electronic communications to help mobilize activists
Help run Healthier Colorado's social media accounts with communications relating to campaigns and events.
Help recruit and manage volunteers.
Minimum Qualifications:
Ability to work well with diverse individuals and groups
Highly self-motivated and the ability to work independently and in collaboration with others
Effective communication and interpersonal skills
Ability and willingness to work flexible hours
Enthusiasm and drive for learning how to effectively organize at the grassroots level
Compensation:

The stipend is $725 per week and health, vision, and dental, insurance is included.
How To Apply:

Please email cover letter and resume to Melanie Kesner, mkesner@healthiercolorado.org– subject line: ORGANIZING FELLOW.  Position open until filled. No phone calls, please.