Become An Advocacy Fellow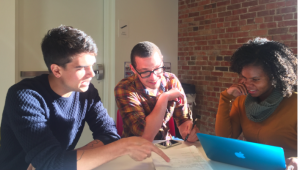 Healthier Colorado is looking for people who want to begin a career positively impacting society through public policy change. As a fellow in our advocacy fellowship program, you will receive the real world experience and development needed to open the door to a career in changing the world. This five-month program will plug fellows in to working roles on health public policy campaigns in Colorado, as well as provide participants with a supplemental professional development curriculum.
Program Details
Program Dates: June 19, 2017 – November 17, 2017
Location: Denver, CO
Application Deadline: CLOSED
What we're looking for: Applicants who are hard-working team players who are open to feedback and passionate about making a difference in their community. Previous experience is not required, but we are looking for candidates who are able to articulate why this type of work would be especially meaningful. At the end of the fellowship, we will work with all fellows to provide assistance in finding their next job or educational opportunity in a related field.
Position Responsibilities and Provided Trainings: At least 10% of participants' time will be spent engaging in professional development curriculum, while the bulk of participant time will be focused on the hard work of executing campaigns. Fellows will receive training and gain real world experience in the skills of community organizing, field outreach and public policy from Healthier Colorado staff members and outside experts. Participants will work on various campaigns launched or supported by Healthier Colorado. Activities will include door and phone canvassing, event production and developing organizing relationships with the general public.
Compensation: $675/week and enrolled in health insurance coverage
Hours: Work may exceed 40 hours per week and will sometimes require evenings and weekends. Therefore, participation will require commitment and flexibility.
Questions? Email Kstigberg@healthiercolorado.org