My mom has debilitating depression.
I was only 10 years old when she sat me down to tell me she had been diagnosed.  But even before she was officially diagnosed, I'd watched her suffer from symptoms that many can't begin to wrap their heads around. As a child, I found myself putting my own mom to bed on bad nights. I struggled to make excuses for why I never invited my friends to my house; I feared potential judgment and assumed that people just wouldn't get it.
To this day, I still find it difficult to speak openly about what my family is going through.
Silence is not uncommon for those whose lives are impacted by mental illness. And that's partly why mental and behavioral health has been stigmatized, shamed, and at times, even ignored.
I have seen how this stigma has affected many of my mom's relationships. However, the stigma she faces isn't even the most concerning part of her condition. Even more concerning is the serious shortage of available and accessible mental and behavioral health services. My mom has had to fight tooth and nail to receive access to the care and quality treatment she needs and deserves.
My mother isn't the only one fighting through stigma and lack of access.
Millions of Coloradans statewide suffer from similar conditions every single day. Our state holds the 7th highest suicide rate
in the nation. The Denver Post reports that each year in Colorado, about "260,000 adults and children need treatment for the most severe mental illnesses—schizophrenia, bipolar disorder, major depression and serious emotional disturbances. Yet tens of thousands go without care; nationally, only about a third of people who need treatment get it."¹
In December 2016, my mother was admitted to the hospital as her depression reached an all time low. I found myself wishing she had a physical illness or injury instead of a mental health crisis because physical conditions are so much better understood and cared for by our society. This experience signals that we aren't quite there yet when it comes to understanding and addressing mental and behavioral health issues. To address the needs of Colorado families and communities, we must accept the challenge of raising awareness.
My first-hand experience with the critical need for mental and behavioral health awareness is why I am so proud to work with Healthier Colorado in hosting a series of three statewide community events, Gearing Up For Mental Health.
These events feature a bike parade (or walk), creative activities for kids and families, free lunch, and information tables staffed by local mental and behavioral health organizations—all to support the goal of destigmatizing mental health and promoting better access to services.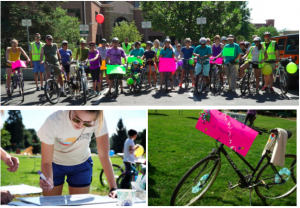 Healthier Colorado has thus far hosted two events across the state of Colorado. Our first event was held in July in Fort Collins and the second in August in Colorado Springs. Our third and final event of this series will be held in Grand Junction on September 16th at Lincoln Park. We chose these cities to highlight just how far people in the surrounding areas and counties must travel to obtain mental health care—sometimes hundreds of miles!
Help us spread the word as we Gear Up for Mental Health in Grand Junction and ride to destigmatize!
I hope to see you, your family, and your friends at the upcoming event in Grand Junction. Let's all band together to reduce stigma and start normalizing the conversation around mental and behavioral health. It's time for Colorado to take action and demand change!
Sign up below to join us in Grand Junction
¹ Jennifer Brown. "Breakdown: Mental Health in Colorado." The Denver Post, The Denver Post, extras.denverpost.com/mentalillness/index.html. Accessed 8 Sept. 2017.