Colorado ranks last nationwide for kindergarten vaccination rates and is well below the 95 percent vaccination rate needed to achieve herd immunity.
What is herd immunity? Many people are not able to get vaccines, such as babies or those with compromised immune systems, like patients who have just received chemotherapy, for example. When a population reaches a certain vaccination rate, fewer people will get sick and spread diseases, protecting those who are unable to get vaccines themselves.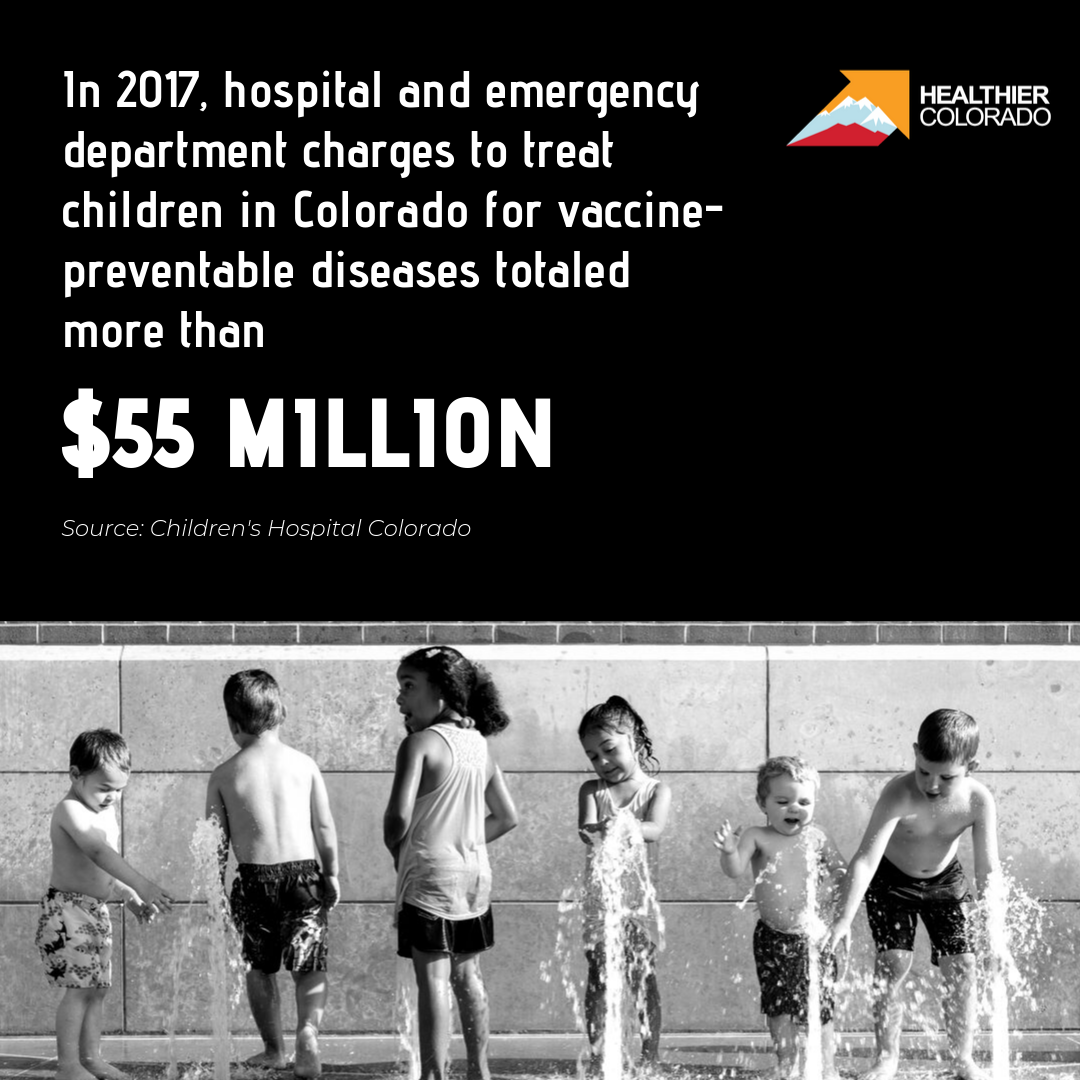 In 2017, 23,228 children attended Colorado schools without protection from one or more immunizations. 
Low vaccination rates put vulnerable community members, such as infants too young to receive vaccinations, elderly members of our community, or those with compromised immune systems, at risk for vaccine-preventable diseases. Every $1 invested in immunization returns an estimated $16 in health-care savings and increased economic productivity.
Although vaccines have been proven to be both safe and effective based on sound scientific evidence, several myths have been spread which keep vaccines at the center of controversy. Measles cases have reached a 25 year high, providing a stark reminder of the importance vaccinations provide in public health. In fact, the United State is on the brink of losing its "measles eliminated" status because of the resurgence of contagious diseases due to low vaccination rates in our country.
UNICEF says that anti-vaccine groups have "effectively exploited social media", creating confusion and stoking fears among parents, potentially undermining progress in reaching all children with vaccines.
This spread of misinformation is incredibly dangerous. Only a few decades ago, polio was still a major threat in our country. The eradication of diseases like polio and smallpox is one of greatest public health achievements of this century. However, as members of the Silent Generation, who were alive during this part of history, have become fewer and far between, many people who have not seen the amazing achievements of vaccines in their own lives have begun to believe false conspiracies about their ineffectiveness and supposed danger.
The CDC estimates that vaccinations will prevent more than 21 million hospitalizations and 732,000 deaths among children born in the last 20 years. And yet, many parents across our state are choosing not to vaccinate their children, leaving them susceptible to easily-preventable and incredibly harmful diseases.
Hospital and emergency department charges to treat children in Colorado for vaccine-preventable diseases totaled more than $55 million in 2017. Actual costs, considering the costs of doctors' office visits, medication, lost wages and decreased productivity, are much higher. This is not a problem that only affects families who choose not to vaccinate their children. This is a public health problem which affects our entire population.
"Misinformation about vaccines is as dangerous as a disease", said UNICEF Executive Director Henrietta Fore. "It spreads fast and poses an imminent threat to public health".
The CDC reported 349 cases of measles in the US in 2018. At the beginning of 2019, an outbreak in the counties around New York City has grown to more than 200 cases and a newer outbreak of more than 40 people is ongoing in Oregon and southern Washington, an area with low vaccination rates.
Colorado is one of only 17 states that allow parents to exempt their children from immunizations required for child care facilities and schools due to their personal beliefs.
The ease with which parents can exempt their children from required vaccines has a direct correlation with low vaccination rates. And with Colorado having the lowest vaccination rate for children in the country, our state is ripe for a deadly, costly, and incredibly harmful outbreak.
Join us now as we work to dispel the misinformation about vaccines, shine a light on their effectiveness, and support our state's public health through vaccinations so we can protect our most vulnerable populations who are unable to get immunizations themselves.