Colorado's Health Capitol is a home to non-profit organizations who elevate the well-being of people in our state, and serves as a beacon to attract needed attention to the critical work they perform. We collaborate and leverage collective resources that strengthen each organization's ability to accomplish their respective missions. Together, we make an even bigger impact on improving mental, physical, social and economic health in communities across Colorado. We are Colorado's first and only shared space with this mission-driven focus. Health impacts everyone. Health does not have a political affiliation or denomination. Colorado's Health Capitol will be home to diverse health leaders, literally breaking down walls and silos to emerge as the center of health policy in Colorado.
Colorado's Health Capitol enhances the impact of its non-profit participants by creating value for them through four main avenues:
Collaboration: We find and use synergy through organic and facilitated collaboration that catalyzes the ability of participating organizations to reach their goals.
Efficiency: We apply an economies-of-scale approach to efficiently secure resources for organizations in a way that would not be possible on their own.
Environment: We maintain an attractive physical environment and positive culture that helps recruit and retain employees.
Spotlight: We are a destination that brings in community members and leaders from around the state through our shared meeting space and other programming, which creates connection and shines a light on participating organizations.
In The News
The Governor
Colorado's Health Capitol is already receiving praise locally and statewide. "This has been a difficult time for many Coloradans, but throughout this pandemic we've seen the best in each other," said Governor Jared Polis. "This announcement is another example of what Coloradans can do when they come together. The Colorado Health Capitol is an exciting new project that will be dedicated to improving the physical, mental, and social health of Coloradans. Health is such an important part of our lives, and not something we should take for granted. I'm excited to see what the future holds for this dedicated group of community leaders."
Denver Mayor
"I'm thrilled that Denver will be home to this new collaborative health and well-being hub," Mayor Michael B. Hancock said. "The current pandemic has made it abundantly clear we must work together as we chart a course toward recovery and prosperity. By uniting under one roof, these organizations' voices will be stronger, and Denver and all of Colorado will be stronger, as a result."
Your Opportunity to Sponsor Our New Health Capitol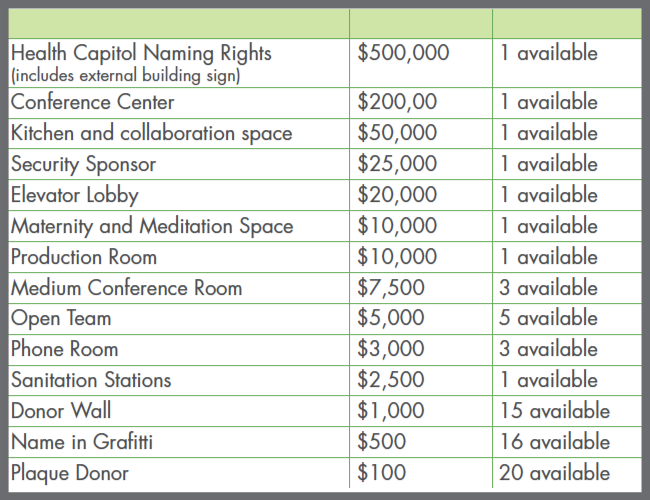 Colorado's Health Capitol is no small undertaking and we need your support to make this space a reality. We are grateful for any level of support and would welcome conversations about customized packages. Contact Ashley Barrow, Development Director at ABarrow@healthiercolorado.org or (720) 413-6993 to learn more.
We would like to recognize these generous donors for their investments in Colorado's Health Capitol.
  -Caring for Colorado Foundation
  -The Colorado Health Foundation 
  -Rose Community Foundation 
  -Telligen Community Foundation