August 2016
Healthier Colorado walked 156 miles from three rural Coloradan communities to the nearest available mental health treatment center to raise awareness on the long distances residents in rural areas must travel in order to access treatment.
Staff and courageous volunteers split into 3 groups to walk from Cañon City to Pueblo, Parachute to Grand Junction, and Cortez to Durango over the course of 2 days. Scroll down to learn more about each trip!
Parachute –> Grand Junction
We are incredibly proud to say this event was first of it's kind. Collectively walking 156 miles is not an easy feat and our feet were incredibly sore at the end but the cause was well worth it. Check out some of the media coverage Healthier Colorado received during this event.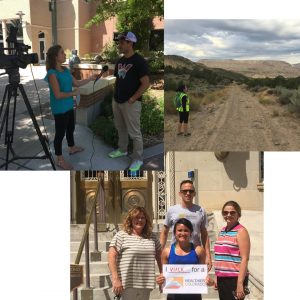 Cañon City –> Pueblo
Our inaugural class of Advocacy Fellows did most of the research and planning for each trip: from figuring out the 3 routes to finding the helicopter that took this beautiful aerial shot.
Cortez –> Durango
The team walking from Cortez to Durango crossed paths with Katie Koppenhafer, a Cortez resident, who was out biking. When she heard why we were walking, she shared the story of a friend who has been waiting over two months to see a psychiatrist in the area. We walked because of stories like this; your zip code shouldn't determine your access to the care you need.