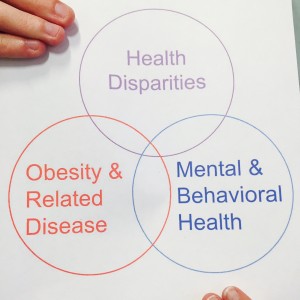 In Healthier Colorado's first year of existence, we applied a relatively open and flexible process to select which policy change opportunities to engage. Our main goal was to be a useful partner with other health advocates in achieving meaningful progress on health policy changes. In year one, we supported 10 campaigns in which we partnered with 43 organizational allies, and we mobilized 15,000 Coloradans in support of one of those campaigns. In year two and beyond, we are applying a refined issue focus.
How we pick priorities
Healthier Colorado was founded with a policy scope that spans all of health. Additionally, we do not represent a particular stakeholder or narrow interest. The people of Colorado are our constituency. To best serve the interest of Coloradans, we have to pick priorities within the vast field of health toward which we deploy our finite resources. Our process to pick our newfound issue priorities includes the following components:
Health data analysis: We examine population health data to determine which health focus is most in need of improvement. This examination includes comparisons between Colorado and other states and between regions and counties within Colorado.
Social science analysis: We review public opinion research, some of which is commissioned by Healthier Colorado, to learn about Coloradans' attitudes on health policy.
Statewide conversations: We regularly tour the state to meet with stakeholders, health professionals and regular folks to learn about various perspectives around Colorado.
Advocacy field assessment: We seek to partner with other advocacy organizations and deploy our unique resources toward issues on which they are truly needed. Therefore, we work to develop partnership opportunities and avoid duplication.
Policy opportunity assessment:  We consider both the degree to which policy change can make a positive difference (versus, for example, direct service work), the number and potential impact of policy changes, and the political viability of those measures.

Our new issue focus

We have chosen three categories of issue priorities:

1. Reduce obesity and related chronic disease

Healthier Colorado seeks to reduce obesity and related chronic disease. Colorado's adults are famously the nation's least obese, but our children rank significantly lower. Residents with lower socioeconomic status, non-white populations (especially Latinos and African Americans), and certain geographic areas (especially rural ones) have higher rates obesity and related disease. We focus on the twin components to the prevention and reduction of obesity: physical activity and nutrition.

Colorado's adult obesity rate is currently 21.3%. In 1990, only 6.9% of adults were obese, which means that the obesity rate has more than tripled in 25 years. About a quarter of Colorado's kids are overweight or obese, and Colorado's childhood obesity rate ranks in the middle of the pack among states. The obesity rate for African Americans and Latinos is over 50% higher than that of whites. In addition to these troubling statistics, we have consistently heard from people around the state that their communities need and want increased access to affordable healthy food options, active transportation infrastructure, and more places for safe physical activity.

2. Improve mental & behavioral health.

Healthier Colorado aims to improve mental and behavioral health in Colorado. We believe that every Coloradan should have access to quality mental and behavioral health services that are affordable and integrated on equal footing with physical health within our health system. We pursue policy change on mental and behavioral health that improves Coloradans' quality of life, avoids premature death, and prevents adverse childhood experiences (ACEs).

1 in 5 Coloradans needs mental or behavioral health services, yet less than one-third of them receive care. Colorado's mental and behavioral health outcomes are, in many cases, alarmingly poor. We are consistently in the top ten states for the rate of suicide, number two in the nation for prescription drug abuse, and experience an above average rate of alcohol related deaths, and 10% of Colorado's kids have experienced three or more ACEs. In 2014, Colorado had a record high number of suicides, killing more Coloradans than homicide, car crashes, diabetes, or breast cancer. We have heard numerous stories around Colorado about the lack of mental health resources that exist for low income and rural Coloradans as well as the intense stigma that surrounds the seeking of those services, especially in small communities.

3. Address population-level health disparities

Healthier Colorado seeks to reduce health disparities on the basis of socioeconomic status, race and geography. We believe that a person's health status should not be dictated by how much money they make, the color of their skin or where they live. Unfortunately, there are pronounced health differences between Coloradans on these bases. We focus on disparities within the areas outlined above, in addition to emerging opportunities to make a meaningful difference in other areas. These opportunities may include, but are not limited to: oral health, tobacco use and housing.

There is a strong correlation between income level and health outcomes, which is often compounded by the region where someone lives. A recent Colorado Health Institute Survey found that people living at or below 200% of the federal poverty level reported double the rate of poor physical, oral, and mental health outcomes as Coloradans living above 200% of FPL. Health indicators, such as obesity, are far worse in rural counties than they are in Denver Metro and ski resort communities. Meanwhile, if you drive one hour east of Denver, each doctor has to serve a population of more than four times as many people as in the metro area. In our travels around the state, we have heard that rural communities are often lacking physical, mental and behavioral health providers, which has a direct impact on their ability to maintain good health.

Going Forward

These are going to be our issue priorities going forward, for an undetermined amount of time. However, our process of actively listening to people around the state and examining relevant data will continue in earnest. If you have feedback, we want to hear it.