The skyrocketing price of health insurance premiums and deductibles is clearly hurting the health and pockets of Coloradans, especially in our rural communities. We need a Colorado solution to this problem. HB18-1384 would allow us to explore different kinds of insurance plan options that could be offered to Coloradans. Read more about how this bill could help us craft smarter and more informed health care legislation!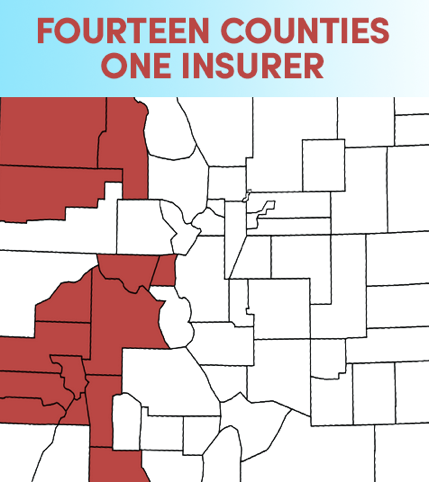 The Problem
Too many people in Colorado are facing skyrocketing health insurance premiums and deductibles.
Citizens of 14 of our counties have only one choice of the insurance carrier in the individual market.

The Western half of the state saw average rate increases of 30% in 2018

Due to the uncertainty of federal action on health care and the resulting market instability, Coloradans could continue to see their health insurance spiral upward in 2019.

Congress has the ability to take some actions to help stabilize the health insurance market across the country, including in Colorado, but that doesn't look likely to happen in the near future.
Our Approach
We've always been a state that found uniquely Colorado solutions to uniquely Colorado issues, including on health care.
Colorado built and runs its own health insurance exchange.

We're a national leader on payment reform and the integration of physical and behavioral health services.
Healthier Colorado is interested in exploring what different kinds of insurance plan options could be offered to Coloradans, especially those in rural areas. We'd especially like to answer the following question:
If we used existing state infrastructure, including Medicaid, to build a new health insurance plan that would be available for purchase by those experiencing very high premiums, high deductibles, or living in an area where they only have one insurance carrier option, could we provide better and more affordable coverage?
Using the state's existing Medicaid framework could help us find some efficiencies, which might help lower the premium and out-of-pocket costs for consumers. It could also create a more stable insurance product with a broad provider network. No other state has successfully created its own option like this for able-bodied people (Colorado has a buy-in for adults with disabilities), so we want to make sure that this possibility is fully explored before we move forward with any kind of implementing legislation.
Creating and implementing a uniquely Coloradan solution like this one would require a multi-year commitment and many steps to get right. There are many options for the design of the potential plans. There are even more questions that need to be carefully studied and answered before Colorado could move forward with any kind of new Medicaid buy-in or state infrastructure-based option for those who might otherwise be relegated to a single or expensive private insurance provider.
The Bill
HB18-1384: Study Health Care Coverage Options will direct the Department of Health Care Policy and Financing and the Department of Insurance to conduct a study three different health insurance plan options using the state's existing health care infrastructure, including the state Medicaid program:
The first option that HCPF and DOI are directed to study is a Medicaid buy-in. This option would allow consumers to purchase a plan designed specifically for those who don't qualify for existing Medicaid programs directly from the state's Medicaid program.

The second option that HCPF and DOI must study is a public-private partnership, which would allow a private insurance company to bid to provide an insurance option that utilizes Medicaid's existing infrastructure. It would probably be a managed care program and would use existing efficiencies in the Medicaid system, but would be managed by a private insurance company.

The third option directs DOI to study a community or regionally based cooperative health plan affiliated with a private carrier.
HCPF and DOI must present their findings to the state legislature by February of 2019. At the same time, they'll make a recommendation about whether any of the options are viable, and if so, which one(s) make the most sense.
In undertaking their analysis, HCPF and DOI must consider a number of questions. Those include:
Cost changes to consumers;

Cost changes to the state of Colorado;

Any system-wide savings to the state and/or consumers;

Whether this type of option would increase competition;

What sort of benefits package could be offered to consumers;

What kind of effect both options could have on the current health insurance market
The bill asks HCPF and DOI to make a recommendation about which option drives down cost and increases competition. Once the report has been presented, the legislature will have the option to craft legislation to begin the implementation process.
Email your legislator to thank them for supporting or ask them to support HB18-1284!
---
Some FAQs for internal use:
What about Congressional action?
Unfortunately, that doesn't look likely to happen any time soon and Coloradans can't wait for a solution.
Why can't we have a bill that creates a pilot program in 2019 instead of a study that will take multiple years to implement?
This kind of state-based health insurance option has never been done before. Because of that, Colorado will be charting new territory and there are many questions that must be answered about how this kind of option would need to be designed, what kind of benefits it could offer, how it would function within the state's current infrastructure, what it would cost, how it would affect the current individual market, how a Medicaid based option would affect the current Medicaid program (including for the expansion and people with disabilities), what kind of government approvals need to be obtained, and what the steps would be for building this option. While we believe that the state's high premium prices are a crisis, especially on the western slope, we also believe that we should thoroughly vet any option that could cause the state to take on additional risk. Building something of this magnitude will take time and careful planning in order for it to work right and provide the most amount of good to a large number of people.
This presents an extreme and scary change to our current health system. Don't you think this is a step too far?
One of the reasons we are beginning with a study bill is because we recognize that adding any kind of state-based option that people with traditional insurance could purchase represents a large undertaking to the state. A change of this magnitude requires careful study and consideration. At the same time, we recognize that health insurance premiums and deductibles for many of our fellow Coloradans are far too high and putting health insurance out of the reach of many families. We must do something about this and we can't wait for the federal government to act. A study bill like this one is a good step forward towards finding the solution that will work for our unique state.