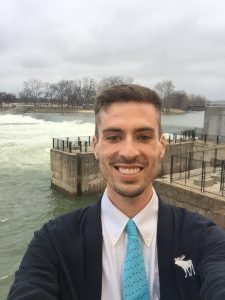 When I first started working with the Healthier Colorado team about four months ago, I was certainly surprised to discover that the organization wasn't even three years old, especially given the robust level at which they perform and the valuable work they do for the state. In just three short years, Healthier Colorado has been able to mobilize over 75,000 Coloradans to take action – whether it be signing a petition, calling their legislator, or attending an event – in order to improve the health of our state.
With Healthier Colorado turning three years old today, we want to not only celebrate the birth of the organization itself, but also the health movement it has helped birth in Colorado. Truth be told, the last three years have been filled with firsts for the Healthier Colorado team, not to mention a significant amount of internal growth. We have seen the formulation of an Advocacy Fellowship Program, the development of a fundraising Canvass Team, and even the birth of a baby girl in such a short time. As a result, what began as a single person has grown to a staff of thirteen; which has also included the addition of an Events Manager, Community Organizer and soon a new Communications Director. As we eagerly look forward to the next three years and beyond, Healthier Colorado is proud to have expanded its ability to affect change for the people of Colorado in so many profound ways since its relatively recent inception.
The birth of the Advocacy Fellowship Program
Healthier Colorado's Advocacy Fellowship Program started in 2016 as a team of five young professionals seeking to expand their political and philanthropic skill sets over the course of six months. Since then, Healthier Colorado has offered a total of nine Fellowship positions and are soon to expand the program's length to eleven months per round. While participating in the program, the Fellowship Team is given first-hand experience in a wide variety of tasks demanded of a nonpartisan, nonprofit dedicated to elevating the voices of Coloradans through the public policy process so that everyone can have a better chance at living a healthy life. Suffice it to say, when these bright young folks conclude their time with the Healthier Colorado team, we as an organization are extremely proud to have contributed in any way to their preparedness in improving the world in whatever form their pursuits take. Such a concept is certainly worth celebrating and always comes to mind when thinking of how long Healthier Colorado has come since its birth three years ago today.
The birth of the Canvass Program
Three short months ago today, I was lucky enough to launch Healthier Colorado's first door-to-door fundraising Canvass Program. This is not only an exciting opportunity for me personally, but for Healthier Colorado as a whole, given that we can now reach our constituents much more directly than before by knocking on their door and having deep, quality conversations about the health-related policy issues we all face. Our dedicated Canvass Team has met hundreds of people who have donated to our cause, shared their own story pertaining to health, or even indicated their willingness to volunteer their time helping in our mission. The formation of the Healthier Colorado Canvass Team has allowed for a particular kind of grassroots connection that is invaluable in today's political environment saturated with television ads and other forms of digital and social media. As such, we at Healthier Colorado are grateful to have made so many of these connections over the last three months and we are thrilled to make many more in the years to come.
The birth of a new Coloradan
On August 24th, 2017 a beautiful, healthy baby girl named Olivia was born to Susanna Mizer, Healthier Colorado's Director of Public Affairs, and her husband Heath. Needless to say, it was an extremely happy moment for the Healthier Colorado team, but it was also one that made us, well certainly myself, take pause. It made me think of our mission as a nonprofit organization. Our vision as a leader in Colorado's health movement to ensure everyone has a chance at leading a healthier life. We aren't in pursuit of our goals to simply improve the lives of citizens in the moment – we are helping to give those being born into our society a wider range of options from the start; more options than we had as young ones. That being said, it is a profound feeling to simply take stock and reflect. Not in regret of the shortcomings of the past, but in a commitment to continually strive for improving the future. To that end, I am proud to celebrate the birth of an outstanding organization and the work they do to ensure that not only our existing community, but also it's newest members, such as baby Olivia can stand to live healthier.
Happy birthday Healthier Colorado – here's to what the next three years will bring!